Conquer Gaming Staff is attending Kanaliiga Counter-Strike: Global Offensive League season 2. Kanaliiga (translates to Chicken League) is a league where different companies can battle against each other in PUBG or CS:GO for fun. The group stage has come to an end we are through to the playoffs.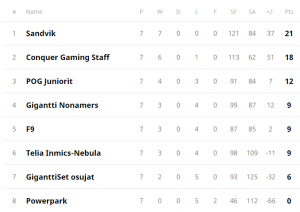 In our first group stage match we were up against Gigantti Nonamers in Mirage. After a good start for our boys, Gigantti got into the game and it looked like they were going to win it. Then our boys started scraping round after another and in the end won the game 16-13. Shoutout to our MVPs pirssi and Tez! The second match was against F9 in Train. Jyppes AWP-hand was on fire and we won the game quite comfortably 16-6.
Since then we were victorious against PoG Juniorit (16-7), Giganttiset Osujat (16-8) and Telia Inmics-Nebula (16-9). Our only loss came against Sandvik after a tight loss in overtime 17-19. Last group stage match we won via forfeit against Powerpark. Our streamer Kung put in some amazing performances in these matches.
The playoff schelude hasn't been announced yet. Make sure to follow our Twitter account to stay up to date.
Image: Kanaliiga Twitter