Apex Suomiliiga's (ASL) season 1 has finished. The league ran for four consecutive weeks with the games being played on every Friday night. The first week of ASL was played on the 10th of May and the last on the 31st of May. The league was organized by Apex Finland and sponsored by Elisa Viihde.
The 12 qualified teams for the league were divided into Alpha and Bravo divisions. After each single week of play, the three best teams in the Bravo division went up to the Alpha division, and respectively Alpha's three worst teams dropped in to the Bravo division.
The leagues point system was simple. In the Alpha division winning a match gave you six points and a kill one point. In Bravo, winning a match gave you only three points and a kill only 0,5 points. This meant that to stay in the Alpha division and to be able to win whole league, teams had to play every week and every single game well. There was no room for mistakes.
Conquer Gamings play was very smooth and the team managed to stay in the Alpha division every single week. After two weeks of play it was obvious that Conquer Gaming and YMCA eSports Blue were the two teams fighting for the title.
Before the last week of play, YMCA eSports Blue was six points ahead Conquer. Still, our boys Mimu, Rette and ZeroNothing handled the pressure well and did an amazing job, smashing enemies and collecting 128 points from the final week. This absolutely amazing performance secured the first place and 750€ paycheck for Conquer Gaming.
Results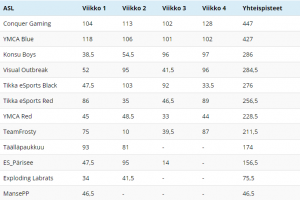 How it feels like to be a champion?
After the last games, it was time to interview our Apex Team's Captain Sebastian "Mimu" Vesala, who commented on their league performance and future plans briefly:
"We came into the final day of the league with full intentions of winning it but I don't think anyone of us was expecting us to get such dominating games to pull off the win. Just the other day we won another league (Apex.Pro League) that also lasted 4 weeks. Getting back to back wins on such a short notice feels really good. I'm really proud of what we've built up with the team and we are looking forward to the future of the game.

Our future plans still remain the same. To get to the top of the EU scene and to be a top tier team within the scene. That means practicing via Apex.Pro League for future customs and taking part on other tournaments/leagues. There is no stopping this train."
More information about the league can be found here (FIN) and here (ENG).